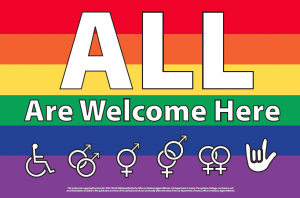 The Women's Freedom Center supports all survivors of domestic and sexual violence.
We understand that LGBTQ community historically has not received equal treatment and faced barriers when they have reached out to domestic and sexual violence crisis centers; we recognize that this community still faces discrimination based on gender identity and a lack of culturally competent workers that fail to meet their needs.
At the WFC, we are committed to supporting all survivors of domestic and sexual violence regardless of gender, gender identity, sex, and/or sexual orientation.  We recognize that any person can be the victim of gender violence and that transgender people, especially transwomen, are at heightened risk for sexual violence.  We also recognize that we as an organization have continued learning and work to do. To that end, we seek guidance from Out in the Open, the local LGBTQ organization serving Windham County, around these issues.
Our name – The Women's Freedom Center – has its roots in the inception of our organization – women helping women be safe from violence.  Its beginning was in the early 1970s when it was then called "The Rape Crisis Center."  This center was established by women in the community concerned about the number of rapes being reported.  Most calls were coming from women who had been beaten by their husbands or boyfriends.  To address the needs the women were presenting, others took women into their homes for safety until they worked to find funds to rent a shelter.  In 1974, The Women's Crisis Center was established and in 2011 our name changed to The Women's Freedom Center.  Our organization to this day continues to maintain a specific focus on ending men's violence against all women. This focus, however, does not keep us from acknowledging and addressing all gender-based abuse and we are here to support and serve anyone who is a victim of domestic and/or sexual violence.
What you can expect when you call/come into the Women's Freedom Center:
All services are free
Confidentiality is strictly maintained
You will meet with one of the trained advocates
We do not assume the gender identity of you or your perpetrator
You don't fill out any forms for identification nor do we ask for ID
You don't have to tell us anything you don't want to – not even your name
When you call or come in we simply ask – "Tell us what's going on?" "What are you needing help with?"  "Can you tell me what happened?"
Based on what is going on for you, we can help connect you with resources in the community, safety plan with you, provide options, legal support, emergency assistance, and safe housing, if appropriate
We provide emergency housing for all who are imminently fleeing violence and need a safe, confidential place to be.